Single-disc and polishing machines Cleanserv SD43
|
Cleanserv SD43 is exclusively used for cleaning and maintenance hard floor surfaces, wood floor, surface carpeted, floor is covered with epoxy, particularly the chassis area, chassis conveyor, nooks small area, etc. When using it combines with chemicals, the floor will be cleaned all stains which hard remove, return almost color, initial state of floor.Solid structure, powerful engines, machine runs smoothly. The machine with a casing of synthetic material can protect itself from chemicals, hard knocks. Handle can adjust height to suit for the user, reducing tired. Cleanserv SD43 is divided into 3 types:Cleanserv SD43/450Hako offers a wide range of useful accessories such as brushes and pads for all fields of application. The pads can be changed without the use of tools.Hako Cleanserv SD43 will help cleaning and maintenance floors effectively, saving time & charge.Cleanserv SD43 is exclusively used for cleaning and maintenance hard floor surfaces, wood floor, surface carpeted, floor is covered with epoxy, particularly the chassis area, chassis conveyor, nooks small area
Cleanserv SD43 is exclusively used for cleaning and maintenance hard floor surfaces, wood floor, surface carpeted, floor is covered with epoxy, particularly the chassis area, chassis conveyor, nooks small area, etc. When using it combines with chemicals, the floor will be cleaned all stains which hard remove, return almost color, initial state of floor.
Solid structure, powerful engines, machine runs smoothly. The machine with a casing of synthetic material can protect itself from chemicals, hard knocks. Handle can adjust height to suit for the user, reducing tired. Cleanserv SD43 is divided into 3 types: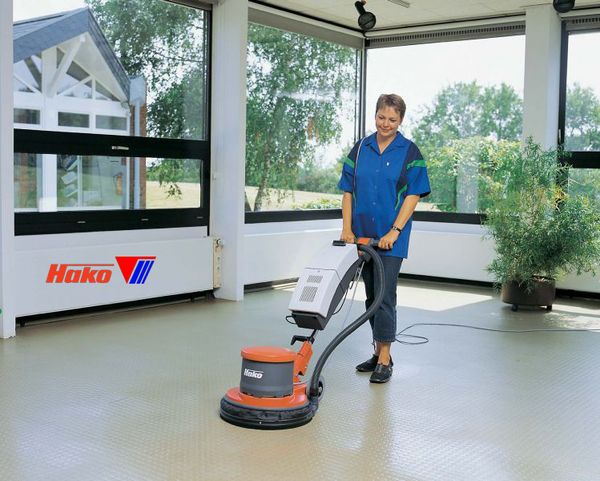 Cleanserv SD43/450
Hako offers a wide range of useful accessories such as brushes and pads for all fields of application. The pads can be changed without the use of tools.Hako Cleanserv SD43 will help cleaning and maintenance floors effectively, saving time & charge.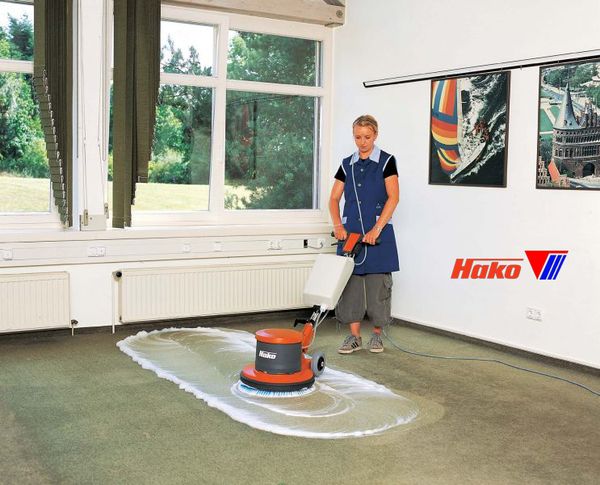 Cleanserv SD43 is exclusively used for cleaning and maintenance hard floor surfaces, wood floor, surface carpeted, floor is covered with epoxy, particularly the chassis area, chassis conveyor, nooks small area