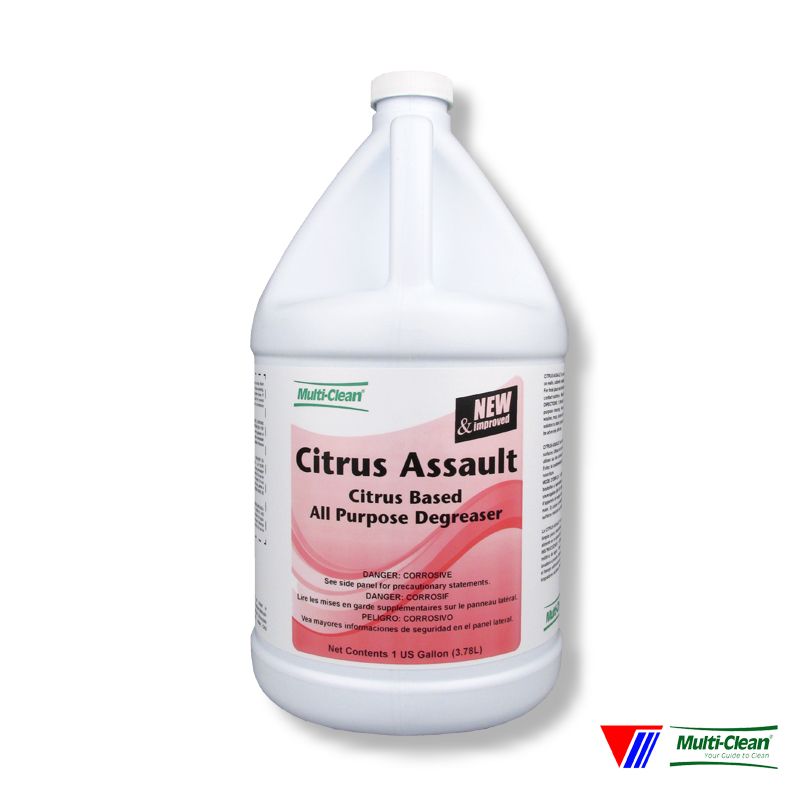 Multi-Purpose Cleaner Citrus Assault
|
Multi-Purpose Cleaner Citrus AssaultDescription Citrus Assault is a concentrated, cost effective, all purpose degreaser. Use to clean dirt and oils from a variety of surfaces. Citrus Assault is dilutable and can be used for cleaning most surfaces.Features and Benefi ts Can be used for all types of floors not harmed by alkaline cleaners such as: Concrete, rubber tile, terrazzo, sealed wood, marble, ceramic and quarry tile. Use with autoscrub- bers, pressure washers, pump up sprayers, mop buckets, trigger sprayers, etc. Use on walls and vertical surfaces, stainless steel, alu- minum, food processing equipment, porcelain and chrome surfaces, steel files and lockers, sealed wood, truck, aircraft and automobile surfaces, etc.USDA C-1 Citrus Assult meets USDA Performance Standard for C-1 type products.Directions for Use: 1) Dilutions:Light soil: 1-2 oz/gal. (8-15 ml/liter) of water. General Purpose: 4-8 oz./gal. (30-60 ml/liter). Heavy Duty: 8-16 oz/gal. (60-120 ml/liter) of water.2) Apply with an automatic scrubber, pressure washer,Packaging WARNING & DISCLAIMER: Results may vary. Multi-Clean chemicals are to be used only by appropriately trained personnel. IMPROPER USE POSES RISK OF PHYSICAL INJURY OR PROPERTY DAMAGE. See appropriate Multi-Clean Method Bulletin for further warnings and information for your application. The suitability of and proper application of this product is the responsibility of the applier. The manu- facturer disclaims all warranties, express and implied, including any warranties of MERCHANTABILITY AND FITNESS OF PURPOSE. The manufacturer's liability is limited to replacement of or reimbursement for any product proved defective. No person has authority to waive these disclaimers or make any representations
Multi-Purpose Cleaner Citrus Assault
Description Citrus Assault is a concentrated, cost effective, all purpose degreaser. Use to clean dirt and oils from a variety of surfaces. Citrus Assault is dilutable and can be used for cleaning most surfaces.
Features and Benefi ts Can be used for all types of floors not harmed by alkaline cleaners such as: Concrete, rubber tile, terrazzo, sealed wood, marble, ceramic and quarry tile. Use with autoscrub- bers, pressure washers, pump up sprayers, mop buckets, trigger sprayers, etc. Use on walls and vertical surfaces, stainless steel, alu- minum, food processing equipment, porcelain and chrome surfaces, steel files and lockers, sealed wood, truck, aircraft and automobile surfaces, etc.
USDA C-1 Citrus Assult meets USDA Performance Standard for C-1 type products.
Directions for Use: 1) Dilutions:
Light soil: 1-2 oz/gal. (8-15 ml/liter) of water. General Purpose: 4-8 oz./gal. (30-60 ml/liter). Heavy Duty: 8-16 oz/gal. (60-120 ml/liter) of water.
2) Apply with an automatic scrubber, pressure washer,
Packaging WARNING & DISCLAIMER: Results may vary. Multi-Clean chemicals are to be used only by appropriately trained personnel. IMPROPER USE POSES RISK OF PHYSICAL INJURY OR PROPERTY DAMAGE. See appropriate Multi-Clean Method Bulletin for further warnings and information for your application. The suitability of and proper application of this product is the responsibility of the applier. The manu- facturer disclaims all warranties, express and implied, including any warranties of MERCHANTABILITY AND FITNESS OF PURPOSE. The manufacturer's liability is limited to replacement of or reimbursement for any product proved defective. No person has authority to waive these disclaimers or make any representations