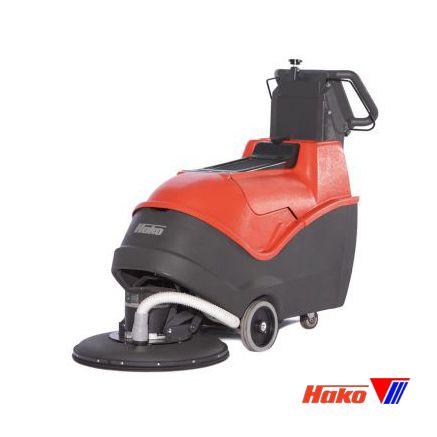 Single-disc and polishing machines Cleanserv PB51
|
Single-disc and polishing machines Cleanserv PB51 with High polishing performance, extreme manoeuvrability, dust vacuuming and simple operation are just a few of the advantages of this polishing machines. It provides gleaming results on coated floor surfaces and has an area coverage of up to 1,600 m²/hour, e. g. in schools, warehouses, offices and clinics, shopping mall, building, resort,...Cleanserv PB51/2000High polishing performance, excellent manoeuvrability, dust extraction and easy operation are only some of the many advantages the Cleanserv PB51/2000 has to offer.1) Flexible employmentCleaning up to 1,600 m² per hour, brilliant results on laminated floors are guaranteed – e.g in schools, department stores, offices and hospitals.2) Direct accessAll operating elements incl. the pressure adjustment are within easy reach; the variable handle bar guarantees fatigue-free working3) Clean extract airPolishing dust is collected in the disposable dust bag and the extract air is filtered.Cleanserv PB51/2000Battery driven Ultra-High-Speed with forward and reverse drive, integrated vacuum withpaper filter bag, including pad holder.Power capacity: 1850 WWorking width: 51 cm (20'')Rpm: 2000Weight empty: 110 kgWeight, ready for operation: 230 kg
Single-disc and polishing machines Cleanserv PB51 with High polishing performance, extreme manoeuvrability, dust vacuuming and simple operation are just a few of the advantages of this polishing machines. It provides gleaming results on coated floor surfaces and has an area coverage of up to 1,600 m²/hour, e. g. in schools, warehouses, offices and clinics, shopping mall, building, resort,...
Cleanserv PB51/2000
High polishing performance, excellent manoeuvrability, dust extraction and easy operation are only some of the many advantages the Cleanserv PB51/2000 has to offer.
1) Flexible employment
Cleaning up to 1,600 m² per hour, brilliant results on laminated floors are guaranteed – e.g in schools, department stores, offices and hospitals.
2) Direct access
All operating elements incl. the pressure adjustment are within easy reach; the variable handle bar guarantees fatigue-free working
3) Clean extract air
Polishing dust is collected in the disposable dust bag and the extract air is filtered.
Cleanserv PB51/2000
Battery driven Ultra-High-Speed with forward and reverse drive, integrated vacuum with
paper filter bag, including pad holder.
Power capacity: 1850 W
Working width: 51 cm (20'')
Rpm: 2000
Weight empty: 110 kg
Weight, ready for operation: 230 kg