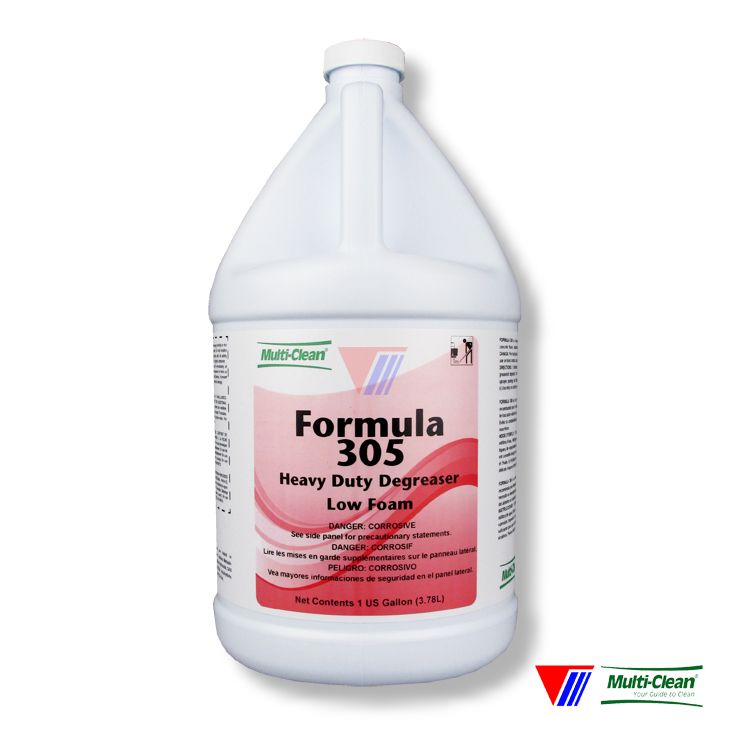 Low Foam Heavy Duty Cleaner / Degreaser Formula 305
|
Low Foam Heavy Duty Cleaner / Degreaser Formula 305:Low Foam Heavy Duty Cleaner / DegreaserDescriptionFORMULA 305 is a heavy-duty, low-foaming degreas- er formulated to attack grease and grime. It is rec- ommended for cleaning floors in food service as well as industrial environments. Use in autoscrubbers, pump-up sprayers, mop buckets etc.Features and BenefitsConcrete floors, quarry tile, industrial equipment, meat room, processing plants and other areas where heavy-duty degreasing is required. It is effective for use on petroleum, animal and vegetable grease/oils.EconomicalFORMULA 305 is used at extended dilution ratios for cost effective end-use solutions. It does not contain any phosphates, solvents or VOC's.USDA A-1FORMULA 305 meets USDA performance standards for A-1 types products.Also approved for use by the Canadian Food Inspec- tion Agency (CFIA) for food plants and other industrial uses. (Avoid contamination of food in the application and storage of the product. Do not use on food contact surfaces.)NOTE: Use only on surfaces resistant to alkaline cleaners. Alu- minum, fl oor fi nish and other sensitive surfaces may be adversely affected. Safety First: Rubber gloves and safety eyewear should be used when cleaning by hand.Low foam degreaser for use in autoscrubbers and food service environments
Low Foam Heavy Duty Cleaner / Degreaser Formula 305:
Low Foam Heavy Duty Cleaner / Degreaser
Description
FORMULA 305 is a heavy-duty, low-foaming degreas- er formulated to attack grease and grime. It is rec- ommended for cleaning floors in food service as well as industrial environments. Use in autoscrubbers, pump-up sprayers, mop buckets etc.
Features and Benefits
Concrete floors, quarry tile, industrial equipment, meat room, processing plants and other areas where heavy-duty degreasing is required. It is effective for use on petroleum, animal and vegetable grease/oils.
Economical
FORMULA 305 is used at extended dilution ratios for cost effective end-use solutions. It does not contain any phosphates, solvents or VOC's.
USDA A-1
FORMULA 305 meets USDA performance standards for A-1 types products.
Also approved for use by the Canadian Food Inspec- tion Agency (CFIA) for food plants and other industrial uses. (Avoid contamination of food in the application and storage of the product. Do not use on food contact surfaces.)
NOTE: Use only on surfaces resistant to alkaline cleaners. Alu- minum, fl oor fi nish and other sensitive surfaces may be adversely affected. Safety First: Rubber gloves and safety eyewear should be used when cleaning by hand.
Low foam degreaser for use in autoscrubbers and food service environments